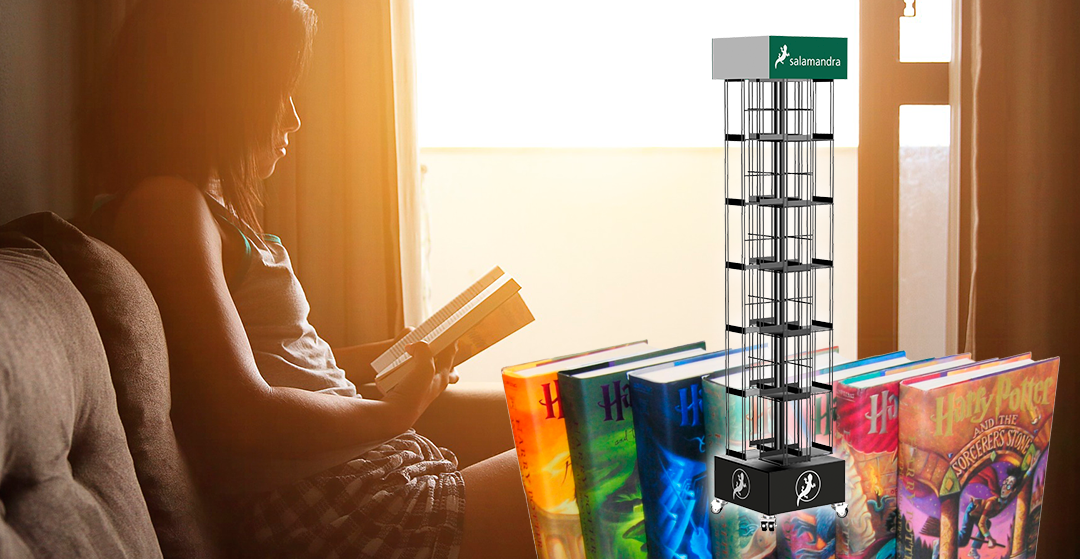 This recent project developed for Salamandra Ediciones has consisted of the design of a practical and agile structure for dispensing books by providing it with a rotating mechanism.
This type of mechanism allows the consumer to
comfortably visualize all the contents
of the display and it offers a large quantity of product for which the materials used in its manufacture give it a great strength and to be able to
support great weights.
The display stand can be located both in specialty stores and in the book area of a commercial area.
Salamandra Ediciones,
founded in 1989 and now integrated into
Penquin Random House,
a large conglomerate of publishers, counts among its successes with the famous
Harry Potter saga,
although it has also published other very famous works such as The Boy of Striped Pajamas.
TECHNICAL FEATURES
- Rotating display with 4 faces
- Metal mast body and a wired structure (rotating) with sheet metal base to position the books.
- Double wheels to support large weights
- Corporate image in the upper and lower area.
- Approximate volume: 35.4 cm wide x 35.1 cm x 178 cm high.