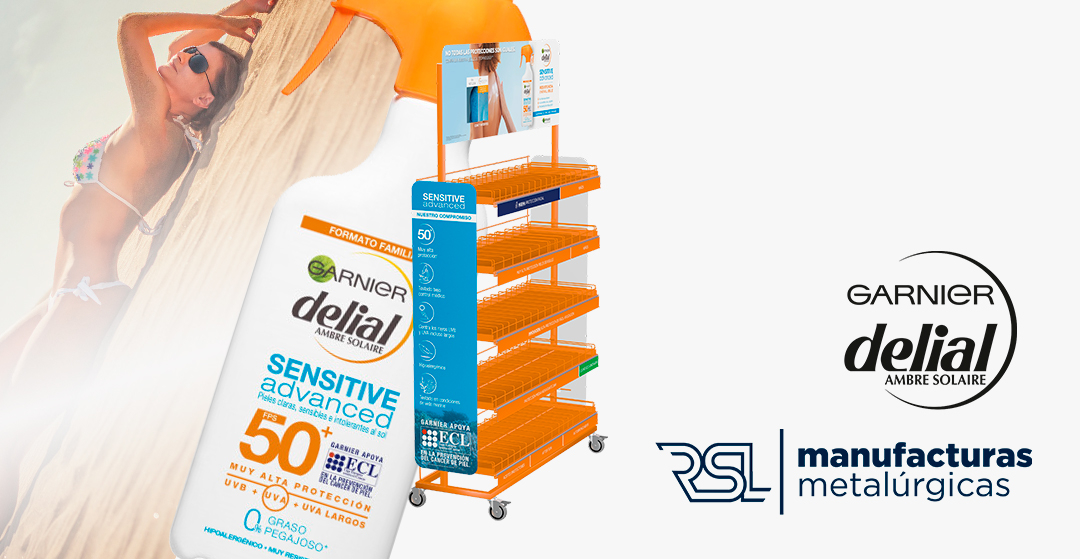 One of the star summer product ranges is undoubtedly made up of tanning and other products to protect and care for the skin from the effects of the sun.
In this recent project for the prestigious firm
GARNIER
and its popular
DELIAL
brand, we were entrusted with the task of developing a structure with a large dispensing capacity of high protection sun milk product for its range aimed at clear, sensitive and Sun intolerant skin, with a high protection factor.
GARNIER DELIAL's sunscreen ranges make the following firm commitments:
. High protection
. Against UVB and even long UVA rays.
. Hypoallergenic.
. Tested under medical supervision.
. Against infrared effects.
TECHNICAL FEATURES
- 2 piece metal display (body and poster holder) with 5 sheet metal shelves.
- Each shelf is equipped with a different distribution of lanes following customer customization guidelines.
- Designed to be deploy in department stores has great strength and capacity to support large product volumes.
- Wheels for easy mobility, top and side signage with specific campaign image.
- Approximate volumetry: 115cm wide x 197.5cm high x 37.5cm deep.