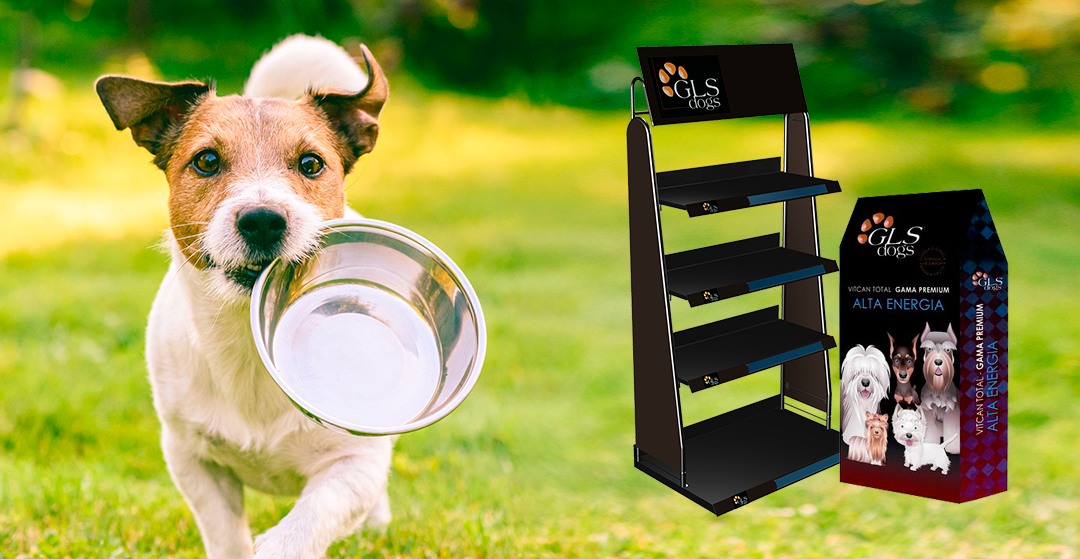 Pets products industry is undergoing a real revolution in recent years, people no longer see themselves as animal owners, but as their parents.
As far as food is concerned, dog and cat food continues to grow, especially in value, above the average for the consumer goods industry, with evolutions of more than 4% in all channels, a trend that is repeated every year. throughout the last 10 years.
This increase is based on the growing premiumization of products, with the demand for 'natural', personalized, healthy and, moreover, sustainable references.
The increase in the number of pets -some sources estimate that in Spain there are already more than 13 million pets and that 25% of households have at least one- and their consideration as another member of the family, which care must be taken in all facets that favor this constant growth, with an industry focused on satisfying all consumer demands.
In this recent project for the
GLS DOGS
brand, the display stand has been designed in which elegance and strength of the structure have been combined to support the weight of the dispensed product, in this case dog food, which enjoys a high demand.
TECHNICAL FEATURES
- Mountable metal structure
- Tube and sheet metal base
- Curved tube sides with black PS panel without printing.
- Three folded sheet trays with serigraphed PS strips.
- Curved tube sign holder with black PS bracket with serigraphy of the brand logo.
- Volumetry approx. 200 cm high x 100 cm wide x 63 cm deep.