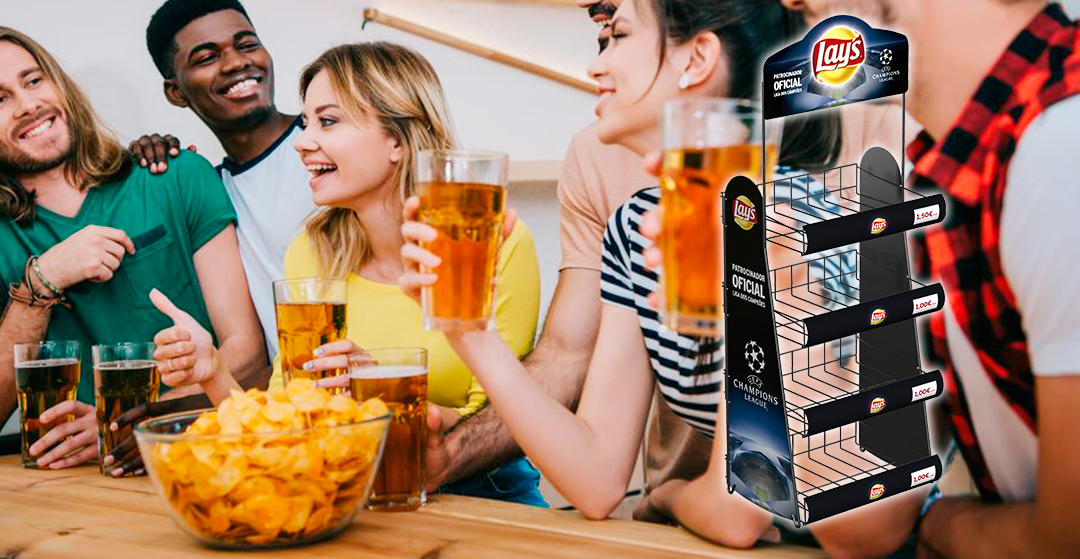 Without a doubt, one of the most common display stands in our daily lives are those we find in kiosks, supermarkets and local grocery stores, bars and cafes.
These small product dispensers are fundamental in the sales strategy of thousands of companies, among which the most prominent sector is the food sector and mainly that of pastries, sweets, snacks and appetizers.
This project in question developed for the
PEPSICO
company and its Portuguese market has been designed for the promotion of its popular range of
LAY'S
potato chips on the
Hostelry
channel, highlighting the brand as an official sponsor of the
UEFA CHAMPIONS LEAGUE.
A primary characteristic of these displays beyond their practicality and attractive design combined with the firm's corporate line is their lightness and robustness since they tend to be highly manipulated not only for their dispensing function with access to the general public on multiple occasions. , if not because they also tend to be relocated frequently.
Therefore, it is essential that the raw material is of high quality, as in all our exhibitors, to withstand continuous contact.
TECHNICAL FEATURES
· Wired counter with 4 trays special promotion "UEFA Champions League" for exhibition and sales points in bars and cafes.
· Structure designed with Ø6 mm wire/rod and trays with Ø4 mm wire.
· Polyester paint finish. Satin black color.
· Top, side and front signage. Upper sign supported by plastic omegas, side signs fitted between the rods and the front ones by means of PVC profiles fitted into the front of the tray.
· Volumetry approx. 38 cm wide x 28 cm deep x 100 cm high.