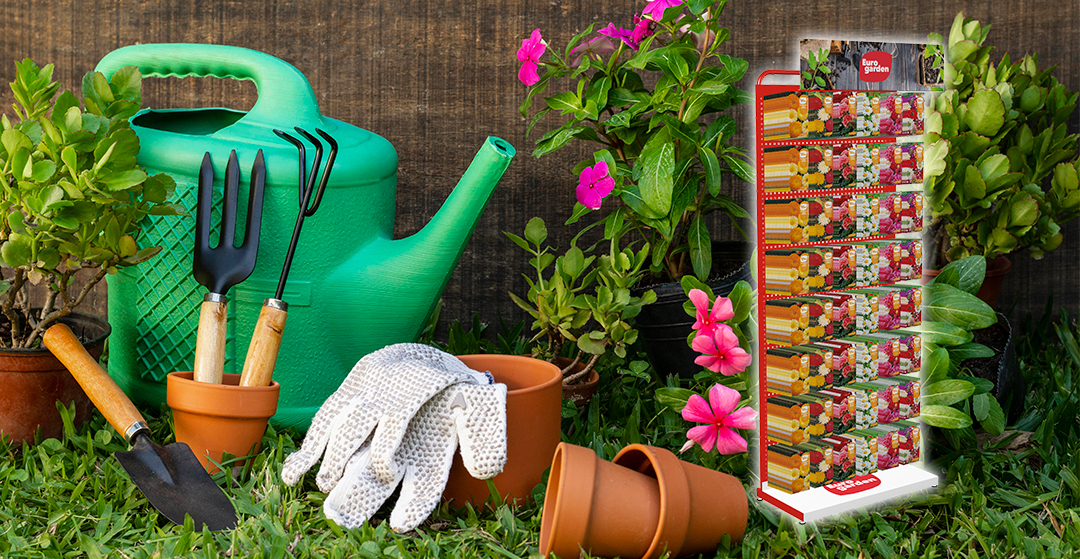 Gardening in general offers endless possibilities capable of covering many different tastes. Motivation, originality, commitment and respect intermingle to create a hobby that promises to feed off the sun and our efforts.
It can be done both in open spaces (outdoors), even large ones, as well as in closed spaces, such as small spaces inside a house, internor courtyards, plant nurseries, etc.
It is above all an activity that brings nature closer to humans, and where care and respect for the environment stands out.
This project, carried out for the brand Eurogarden, consisted of a display dispenser for its wide variety of flower seeds with double blister holder hooks adapted to the design of the packaging of its envelopes, covering the entire space of the structure for this purpose.
Eurogarden
is a brand owned by the Spanish multinational
Semillas Fitó S.A.
, a company founded in 1880 in Sant Martí de Provençals, Barcelona. In these more than 140 years, it has gone from being a small seed company to becoming one of the leading multinationals in the sector of genetic improvement, production and distribution of seeds for horticultural and extensive species.
TECHNICAL FEATURES
· Metal display with perforated sheet consisting of 4 pieces:
. Wire sign holder
. Headstock
. Upper body
. Lower body - base
· It incorporates 48 double blister holder hooks to hang on the perforated sheet of the display.
· Graphic supports both in the upper area and in the base with the printing of the brand logo.
· Approximate volume: 79 cm wide x 39 cm deep x 200 cm high.