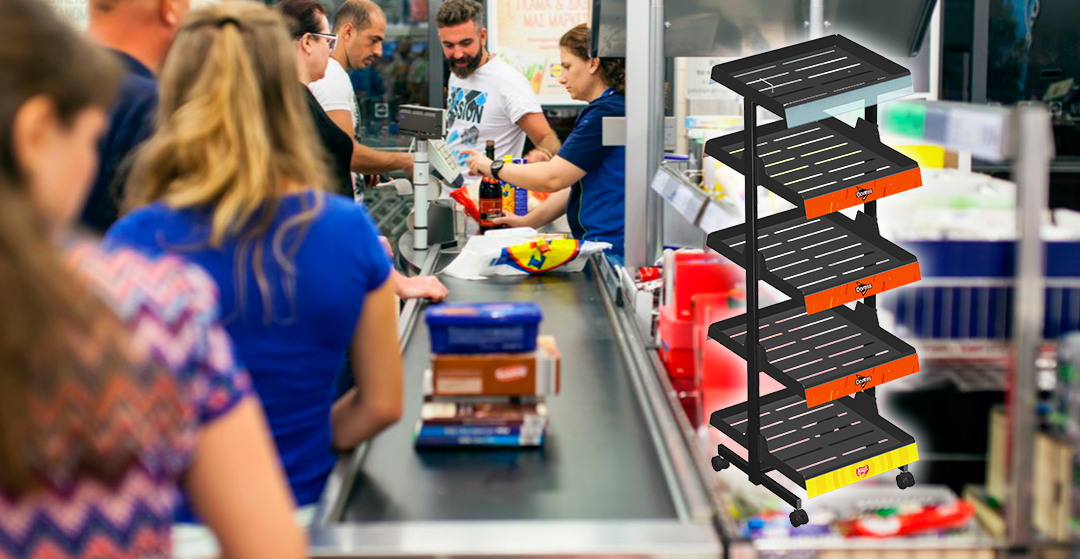 All customers end up going to checkout. So it's the ideal place in the store to optimize product placement and maximize sales.
We have all done it at some point: while we wait for our turn in the checkout line, we take a pack of gum, the batteries that we had forgotten, a drink, or any whim... It is the impulsive purchase par excellence and as we pointed out , without a doubt one of the
ideal product categories to locate is that of snacks and candies
This display stand manuactured for the firm Matutano Snack Ventures S.A. Its objective is its implementation in the checkout lines of the Eroski distribution chain.
TECHNICAL FEATURES
- 2-sided metal display stand.
- Structure made up of 5 sheet metal shelves, of which 4 are to hold bags of potatoes and the upper one for sweets.
- Height-adjustable shelves except the upper one, which is fixed to the structure by means of 2 screws located in this area.
- It has 4 wheels (2 of them with brakes).
- Approximate volume: 410 mm wide x 1250 mm high x 480 mm deep.