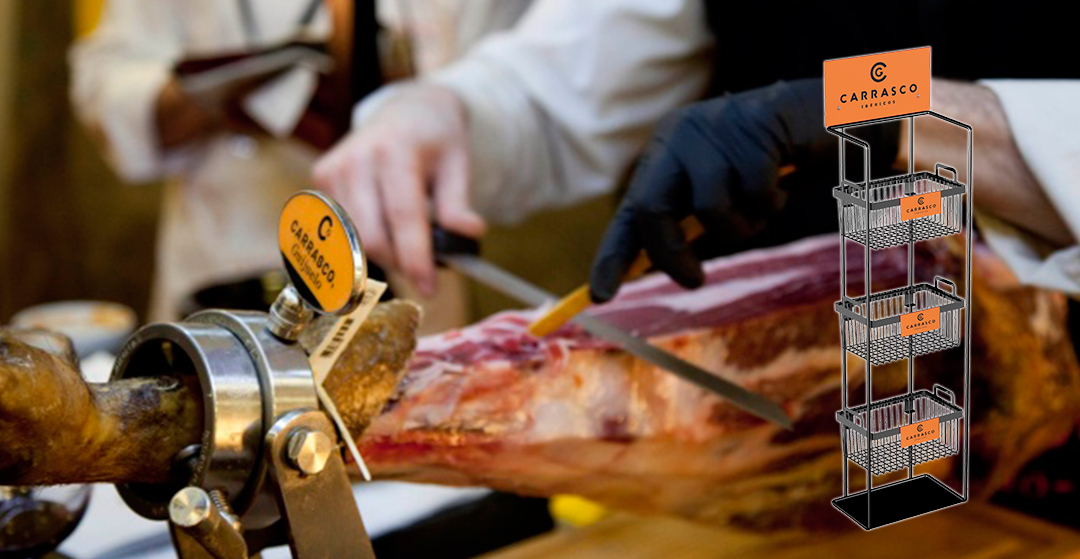 We present this recent project for the prestigious firm Carrasco Ibéricos dedicated to the production of Iberian delicacies and who led the process of creating the Denomination of Origin Guijuelo, reaffirming in this way, the commitment to quality and the good professional make of the brand.

In other articles we have already mentioned the infinite possibilities offered by our company both in the design and manufacture of any type of advertising support for the point of sale and the fact of incorporating different types of supports at each level, as in this case the beautiful dispensing baskets, gives originality and personality to the exhibitor in addition to fulfilling the self-service function of its magnificent products.

It stands out for its elegance and distinction perfectly combining the corporate colors of the brand.

TECHNICAL FEATURES

- Metal body structure made from 10mm. Diameter wire.

- 3 levels composed of 3 baskets intended for self-service of their ranges of slices.

- Removable top poster with customer logo.

- Approximate volumetry: 33 cm wide x 127.5 cm high x 22 cm deep.