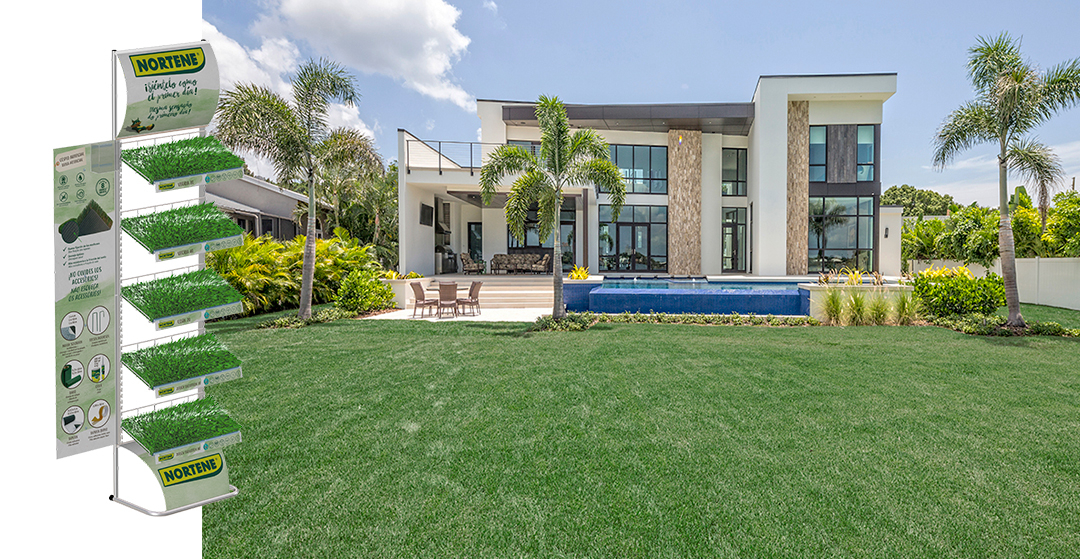 In a recent article on our blog we commented on the versatility of our display stand applications, going beyond their function as a product dispenser.
Many times and at the request of our clients, our structures focus on the merely promotional, informative and informative objective of a product,
communicating its multiple benefits and characteristics.
Now for
NORTENE
we have developed a structure to show one of its ranges of artificial grass and the benefits it offers.
NORTENE, brand of INTERMAS NETS S.A., has been marketing gardening products for 50 years both for the know-how of professionals and for amateur gardeners.
NORTENE
is rich in practical and innovative accessories for home gardens and decorative gardens, turning the garden into the ideal setting for the community of lovers of this environment to design the decoration and grow as a creator in gardening and decoration.
Technical features:
- Detachable floor display made up of 2 bodies and 5 mobile trays attached to the structure by means of a zipper system, providing the possibility of placing the trays at the desired height.
- The lower body is built with a curved tube base and 2 welded rack masts, as well as lower plinth guides.
- The upper body has 2 zippered tube masts and upper poster guides.
- On the sides of both bodies, the structure is provided with a rod frame to which a side sign is attached.
- The 5 trays are made of rod with price holders on the front for advertising strips.
- Digitally printed posters made of polystyrene.
- Volumetric approx: 185 cm high x 78 cm wide x 30 cm deep