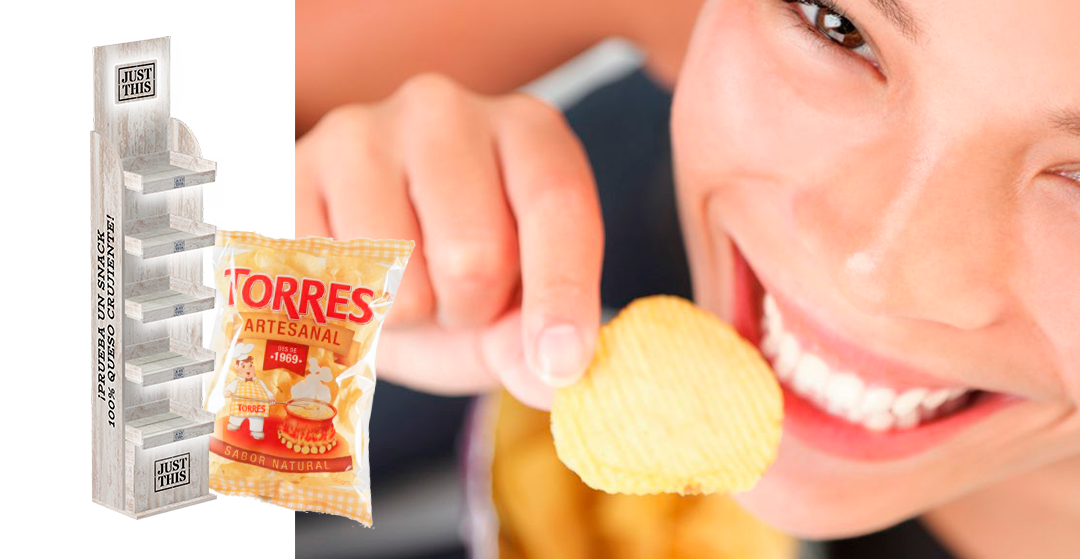 Candies and snacks hand in hand with its star product, the fries, are the impulsive buying product par excellence.

For this reason it is so important to have an display stand that stands out above the others cause the big offer of this type of products in any commercial area.

In this project for PATATAS FRITAS TORRES S.L. it was transmitted to us from its marketing team to harmonize the entire structure with warm colors and graphics that convey the tradition, quality and artisanal essence of its products. For it our development team agreed with the customer the option of using wood as main material and LED lights that would give the exhibitor a spectacular aura.

Since 1969 PATATAS FRITAS TORRES offers a wide range of snacks and aperitifs, including, in addition to its unmistakable fries with multiple varieties and original flavors, for its offer in nuts and Veggie Snacks.

Technical features:

- Wooden exhibitor with base, upper poster and sides printed in serigraphy.

- Sides with holes to screw the shelves at the desired height and with a slight inclination at the customer's request.

- Structure composed of 5 wooden shelves fixed by hardware

- Front of trays printed in serigraphy.

- Prepared with LED lights strategically glued to the inside side around the top poster and under the shelves to give a touch of luminosity to the product and at the same time an extra quality to the exhibitor.

- All the wiring of the LED lights are hidden behind the furniture.

- Volumetry Approx: 180 cm high x 40 cm wide x 28 cm deep.