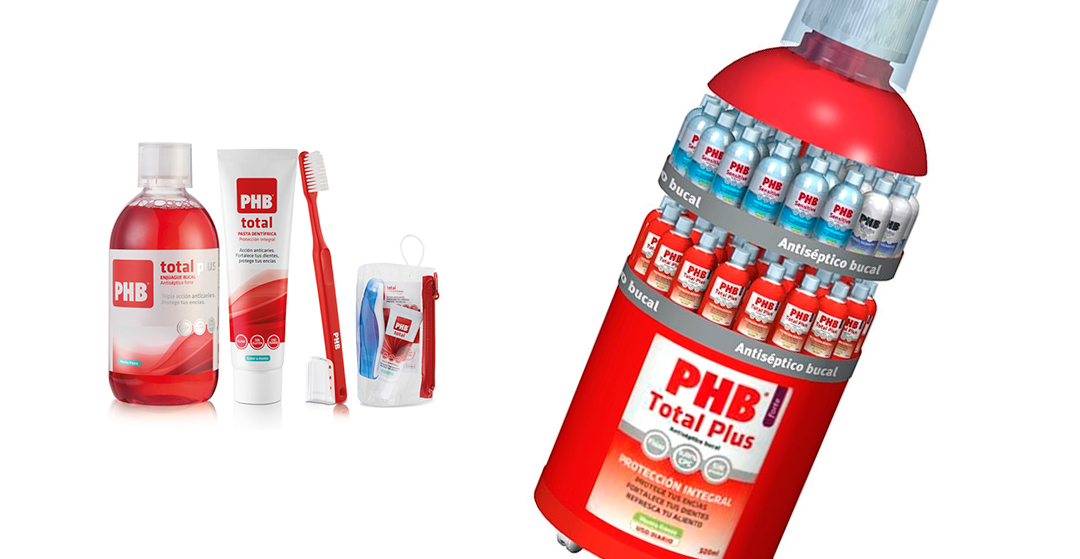 Replicating true-to-scale product packaging exponentially enhances its lure and appeal, leading to enhanced product identification and presentation.

At Manufacturas Metalúrgicas RSL we use the latest technical breakthroughs and next-gen equipment to carry out all type of bespoke projects. By creating a display that combines both product design with its finished packaging, we attain a presentation worthy of the client's needs.

Case in point, our latest project for the PHB firm – a prestigious brand in the health care & oral hygiene industry. This firm was a pioneer in Spain with the introduction of the first modern quality toothbrush in pharmacies in the 1970s.

This specific display stand, intended for PHB's array of oral antiseptic, contains the following components:

- Round plate base on wheels
- Welded central pole with 3 rounded plate trays.
- Removable upper neck for cap.
- 2 polystyrene labels screen-printed in 2 dyes, 2 curved identical side panels (pre-installed in the packaging)
- 2 thermoformed polystyrene units mimicking the upper neck and cap of its container, fixed to the display with pressure caps.