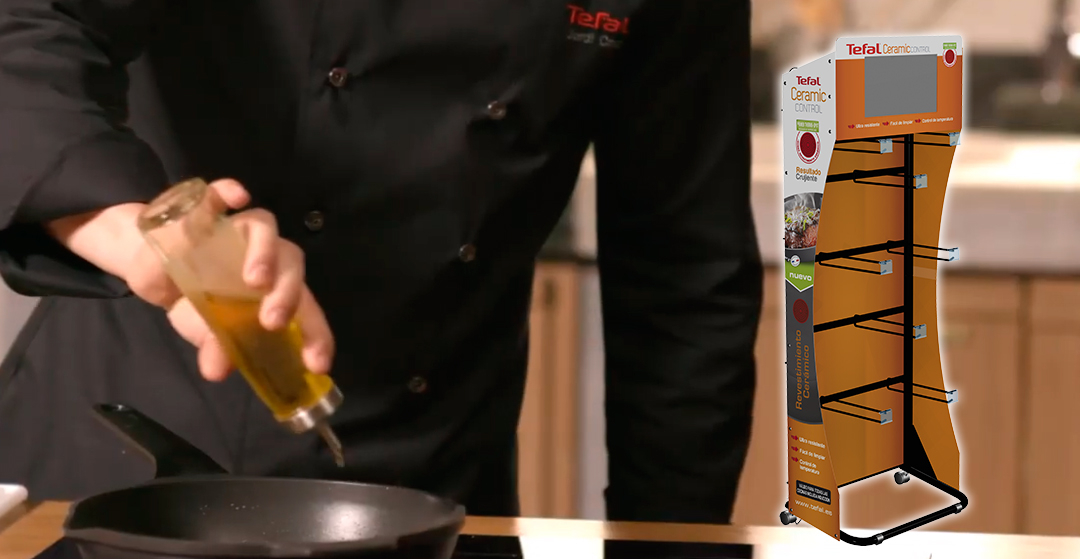 In this recent project we highlight one of the resources increasingly used by our clients: the incorporation of multimedia devices.

From Groupe SEB Ibérica we were asked to enable the design to incorporate a television screen at the top, thus giving it great power of attraction.

The display stand, destined to establish it in department stores where there are a large number of advertising impacts on the consumer, utilizing these resources saw its ability to stand out among the others greatly increased. Without a doubt a great success.

In addition, the structure had to be strong and robust due to the type of product to be exhibited and its weight, all this combined with the ease of mobility to be able to move it within the larger dimensions of this type of business.

Grupo SEB, owner of the TEFAL brand, is the world leader in small household appliances, has 30 brands worldwide and is present in more than 150 countries.

Technical features

- Metal display
- Supports different sizes of pans
- 8 fixed simple price hooks with high load capacity
- Volumetric: 67 cm wide x 40 cm deep x 180 cm high
- Advertising television in the top signage
- Wheels at the rear.