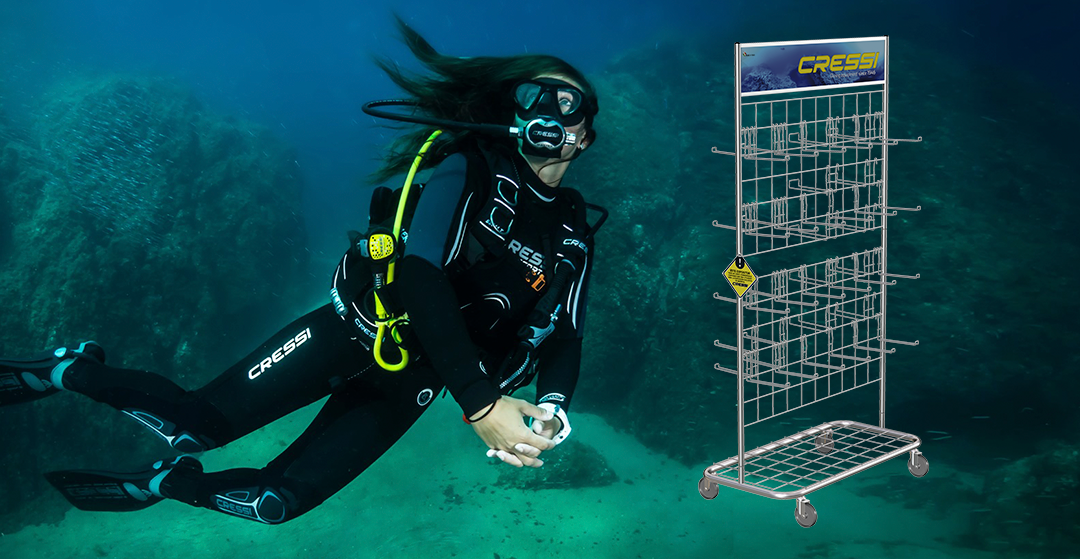 Manufacturas Metalúrgicas RSL, covers multiple sectors, our large capacity allows us to carry out all kinds of projects for companies around the world, creating structures to exhibit and highlight any products at the point of sale.
A clear example is the display stand made for the
Italian firm Cressi
, of over-standing international prestige and dedicated to the manufacture of
material for water sports of the highest quality
for people who love water and sea.
The firm is the creator and holds patents of products as recognized in its sector as its revolutionary
Big Eyes mask
or the
Ellipse Titanium Regulator.
The project focuses on a high capacity in metallic tone mobile display and with the supports strategically distributed to locate its different products.
Technical features
- Floor display, detachable in 3 pieces (Base, Lower body and Upper body)
- With wire mesh for the placement of double hooks.
- Disposition of the product on both sides of the display, having the possibility to place the hooks where it best suits according your needs.
- Volumetry: 100 cm wide x 50 cm deep x 192 cm high