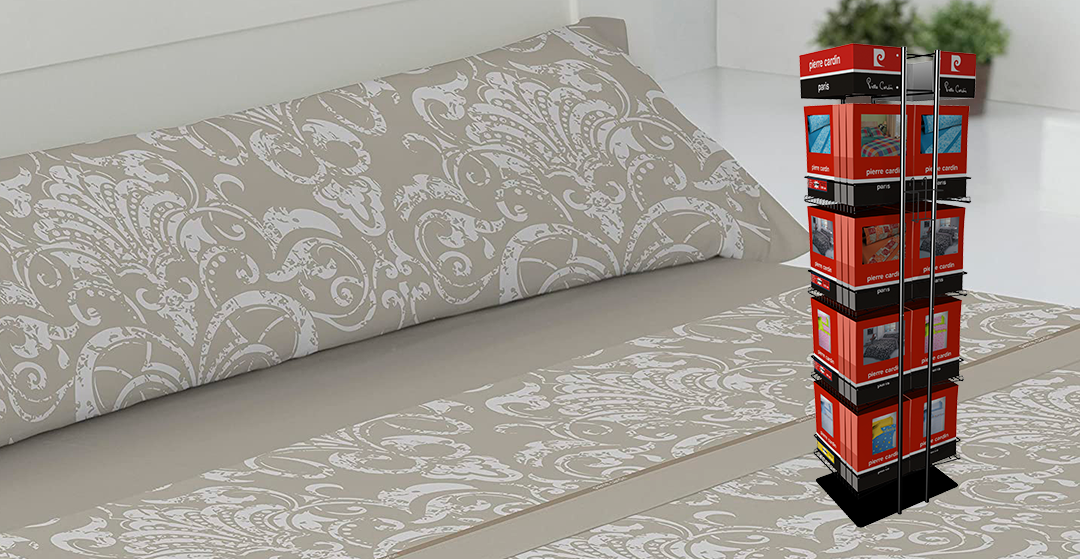 Metal display stand of one piece for the exhibition of sets of sheets of the prestigious French firm Pierre Cardin.
The name of Pierre Cardin is a world reference in multiple facets, mainly that of fashion marking a historical milestone since back in 1959 he was the creator of neither more nor less than Prêt-à-porter ending with one of the great unwritten laws of the industry: the idea that fashion is only fashion if it is Haute Couture.
But its universe also includes accessories, jewelry, fragrances, furniture, theatrical costumes, kitchenware and in this case home textile.
TECHNICAL FEATURES
- Sheet metal base and 2 structural tubes on each side to form a structure next to the 4 wire trays.
- Top with 2 posters assembled by removable plugs providing that, if necessary, the promotion could be exchanged simply by exchanging the graphic support.
- Each shelf has a price holder profile and a wired Din A4 brochure holder can be hung on the structure.
- Approximate volume: 1965 mm high x 570 mm wide x 472 mm deep