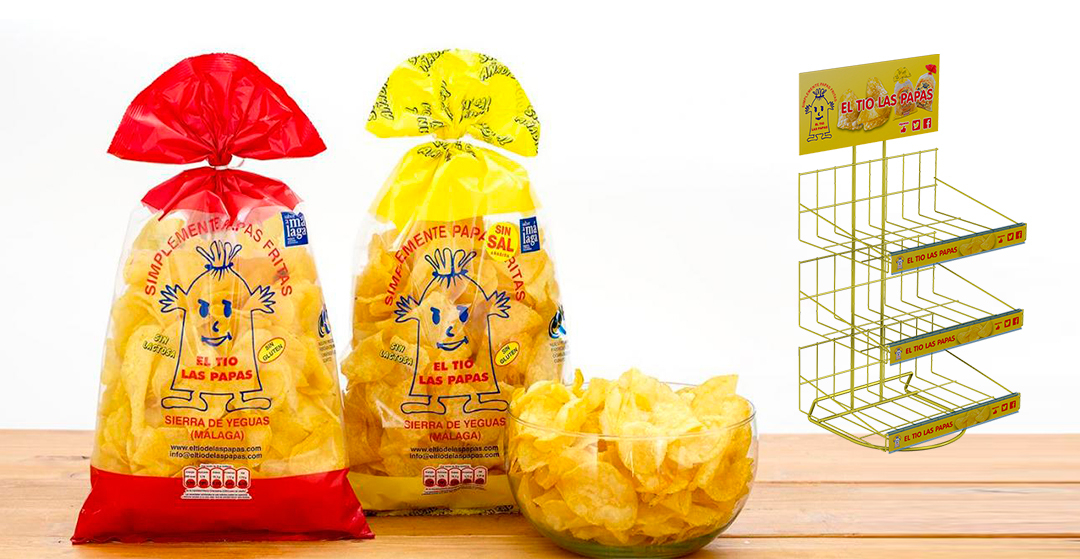 If we think of the essential appetizer, we are sure that chips come to mind for all of us.
This product is fixed in the consumption preferences of consumers like a part of the shopping and impulse buying lists, since it is part of our daily life as a basic product that on many occasions we forget to add it to the list and at the point of sale "we have to remember" purchase this delicious product.
That is why its exhibition on commercial surfaces tends to coexist, obviously, on the shelves, in large promotional displays and also in over-the-counter displays.
There are many manufacturers who opt for the three options at the same time, giving their product great attractiveness, as in this case our customer
"El tío de las papas".
On this occasion the project has been developed with the aim of promoting recurring and impulsive purchases with this latest support with a simple and practical display.
El tío de las papas,
since 1995, has been offering us his delicious chips totally handmade, evoking beautiful life memories and giving people the satisfaction that they are going to eat a product made from the heart and with the most traditional ingredients.
TECHNICAL FEATURES
- Wired display for chechout or counter areas.
- 3 fixed trays for potato bags.
- Price holders on the fronts of the trays and base with curved wire.
- Removable upper banner with advertising of the exposed product
- Approximate volume: 820 mm high x 400 mm wide x 310 mm deep.